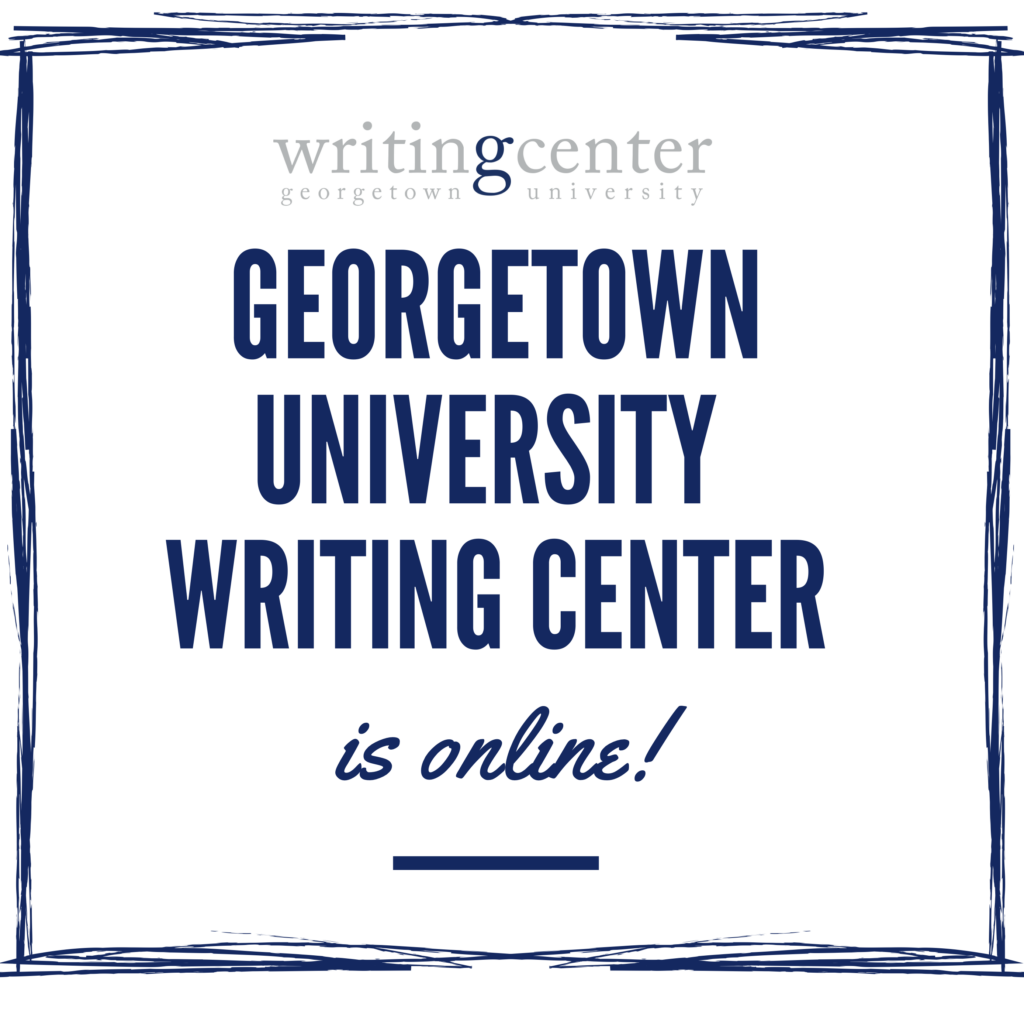 The Writing Center is currently closed, but will reopen on Monday, June 6 for summer sessions.
We look forward to working with you!
Check the schedule to see if your tutor's session is online or in person. If it is online, access your tutor's Zoom meeting room through the link in the appointment confirmation email.
Who We Are
The Georgetown Writing Center offers peer tutoring by trained graduate and undergraduate students who can assist you at any point in the writing process. It is located on the second floor of Lauinger Library (217A Lau), next door to The Midnight Mug. Online sessions will take place via Zoom.
Hours of Operation:
Main Center
Sunday:
1:00 PM – 9:00PM
Monday – Thursday:
11:00 AM – 10:00 PM (EST)
MSBWCC
Sunday – Thursday:
4:00 PM – 10:00 PM (EST)
What We Do
Our tutors will help you meet your immediate goals (such as an assigned essay) as well as help you develop as a writer. We're happy to help at any stage of your writing process, from brainstorming to revision. Tutors can offer advice on thesis development, use of evidence, organization, flow, sentence structure, grammar, and more. We won't edit or proofread your paper for you, but we will help you improve your own editing and proofreading skills — enabling you to become your own editor.
See our Policy on Academic Integrity.
Founded in Fall 2019, the MSBWCC offers free peer tutoring services for all MSB students. Writing Fellows are available to support you with essays, research papers or any other type of class writing assignments at any stage of the writing process. We are available to help with any and all assignments!
NURO Online Writing Center
If you would like to make an appointment with a NURO Writing Center tutor, please visit https://calendly.com/onlinenurowriting. Once you make the appointment, a tutor will send you a confirmation email, which includes the information needed to meet your tutor and share your document. Questions? Email us at onlinenursingwriting@georgetown.edu.
We would love to hear your feedback!
Email writingcenter@georgetown.edu with any comments, questions, or concerns, or fill out this form.