Staff 2021-2022
Director Of The Writing Center
Karen Shaup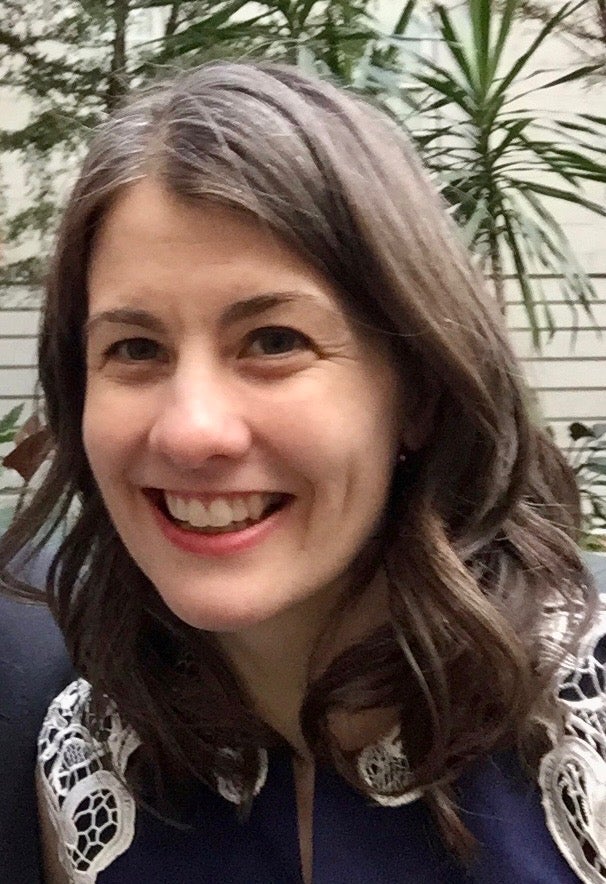 I believe that every writer benefits from feedback from other writers, and I feel extraordinarily lucky to work with a community of amazing tutors at the Writing Center. At Georgetown, I teach first-year writing and environmental humanities courses. I am interested in writing pedagogy as well as inclusive teaching practices. I live in D.C. with my husband Jeremy and our toddler Nate. When I am not on campus (or on Zoom), I like to run on the many trails in Rock Creek Park.
---
Staff
Abigail Corrao
Abigail is a junior in the NHS from Northern NJ, majoring in Human Science. She is interested in health equity and the social components of disease transmission. Abby loves organization and helping with outlining and is eager to talk through the entire writing process. She is excited to work with writers of all specialities, but Abby has a particular interest in research papers, scientific reports, and other forms of analytical writing. Outside of the Writing Center, she is probably attending pre-med classes, shopping at Trader Joes, or writing for The Guide section of The Hoya. If you can't find her, you probably can hear her loudly discussing unpopular opinions across campus.
---
Alara Karahan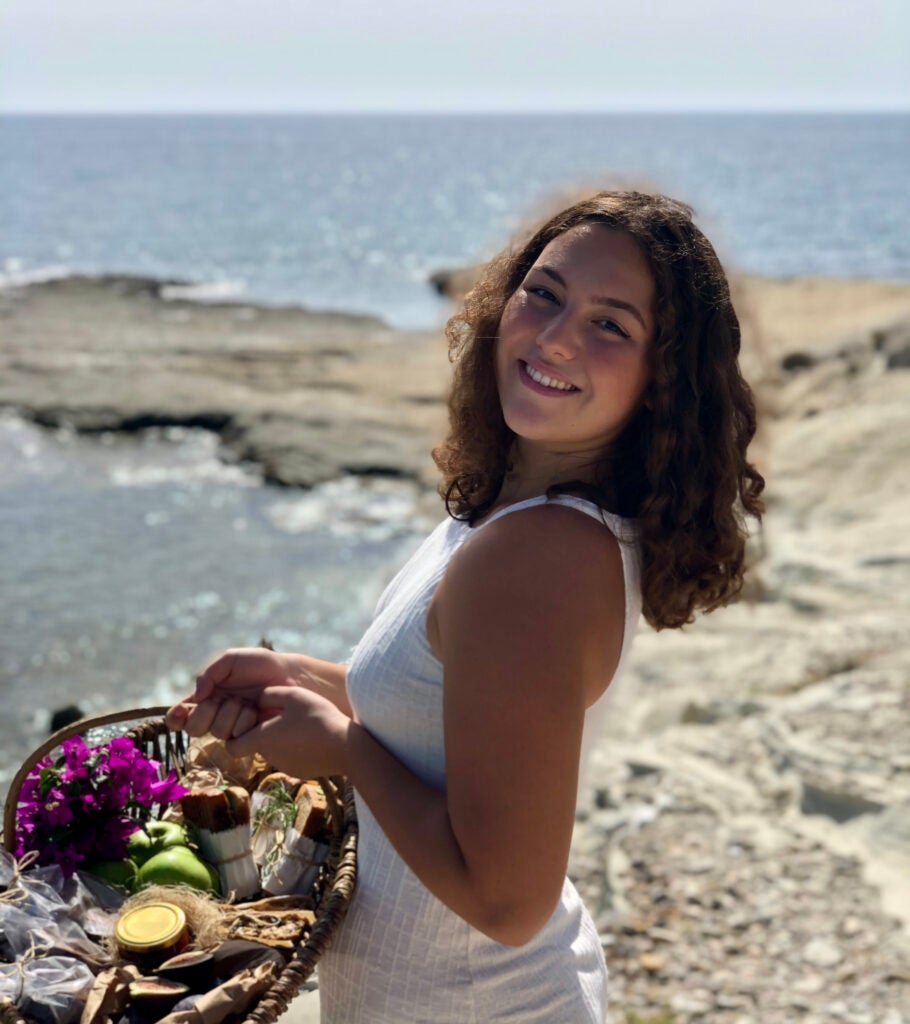 Alara is a sophomore in the School of Foreign of Service majoring in International Politics. She is born in DC but grew up in Toronto and Istanbul (helloo SFS stereotypes!). She enjoys supporting writers with their brainstorming and outlining, especially when it comes to personal statements, business proposals, and job applications. As a Turkish and French speaker, she is happy to support non-native speakers. You are most likely to spot Alara at a Zumba class in Yates or the hummus line in Leo's – she is always up for a chat, writing-related or not!
---
Angela Lentini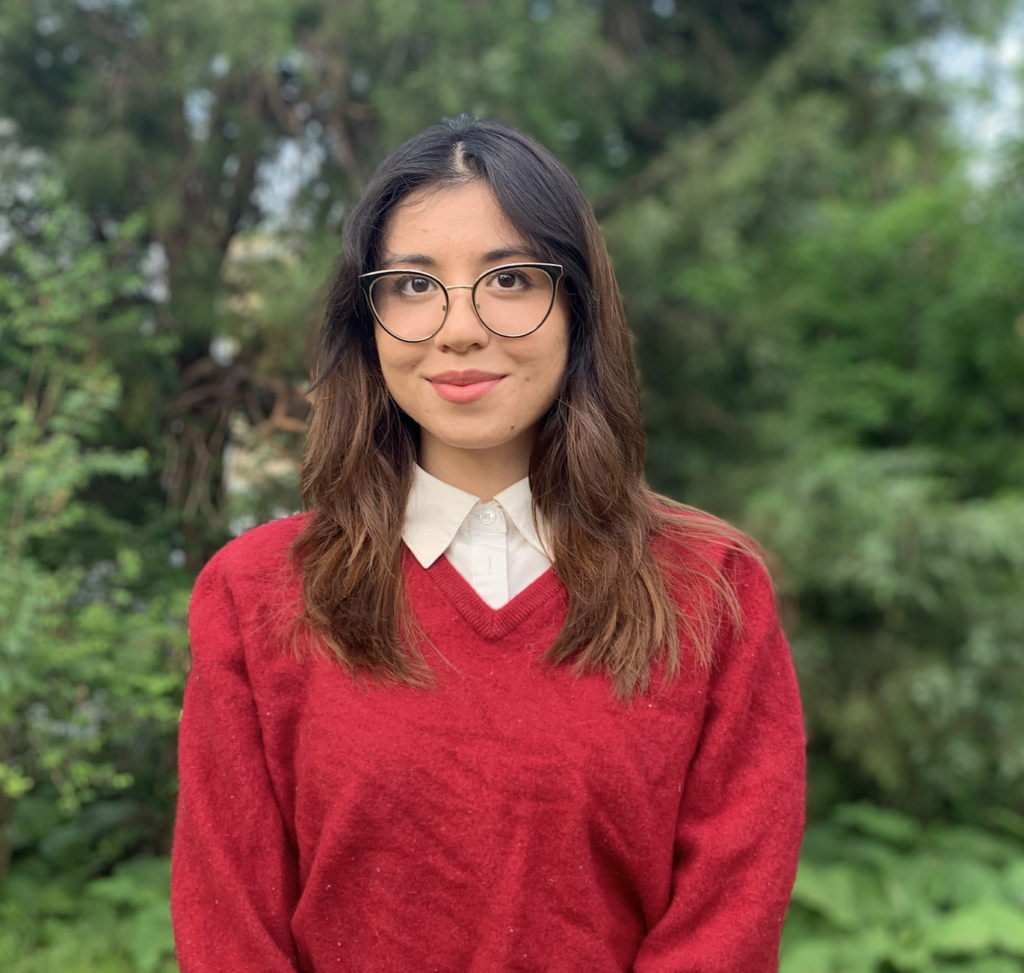 Angela graduated from The George Washington University in 2020 with a double major in Music and English. She is currently working towards her Master's in English at Georgetown. Angela was musically driven her whole life, and accidentally fell into English by reading when she should have been at her voice lessons. It's taken Angela twenty-three years to find her true path, but she made it, and is focusing on 20th-century American literature. Angela is currently teaching K–12 English, and hopes for a future in professorship, that is, when she is not binging Gilmore Girls or That 70's Show. Angela is a Slytherin and will never cease to argue that Snape's redemption arc is not enough reason for Snape to be considered a good person. 
---
Anjali Britto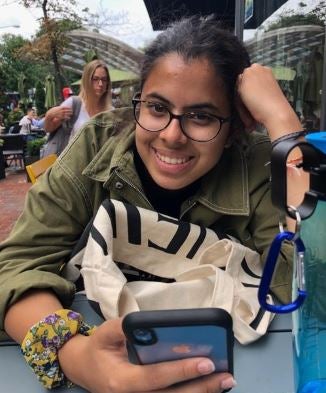 Anjali is a senior studying Science, Technology and International Affairs in the School of Foreign Service. She is from India and has always lived near the sea, but she finds that the Potomac is not too bad a replacement! She speaks Hindi, and some Spanish, and would love to work with non-native English speakers. She loves all kinds of writing and all stages of the writing process, especially brainstorming and editing. Outside class, she can be found rewatching Hannibal (it's so beautiful), trying to squeeze in a piano session at HFSC (apologies to study rooms one through four), and curating stickers for her laptop (she's running out of space).
---
Arianna Ashley Nassiri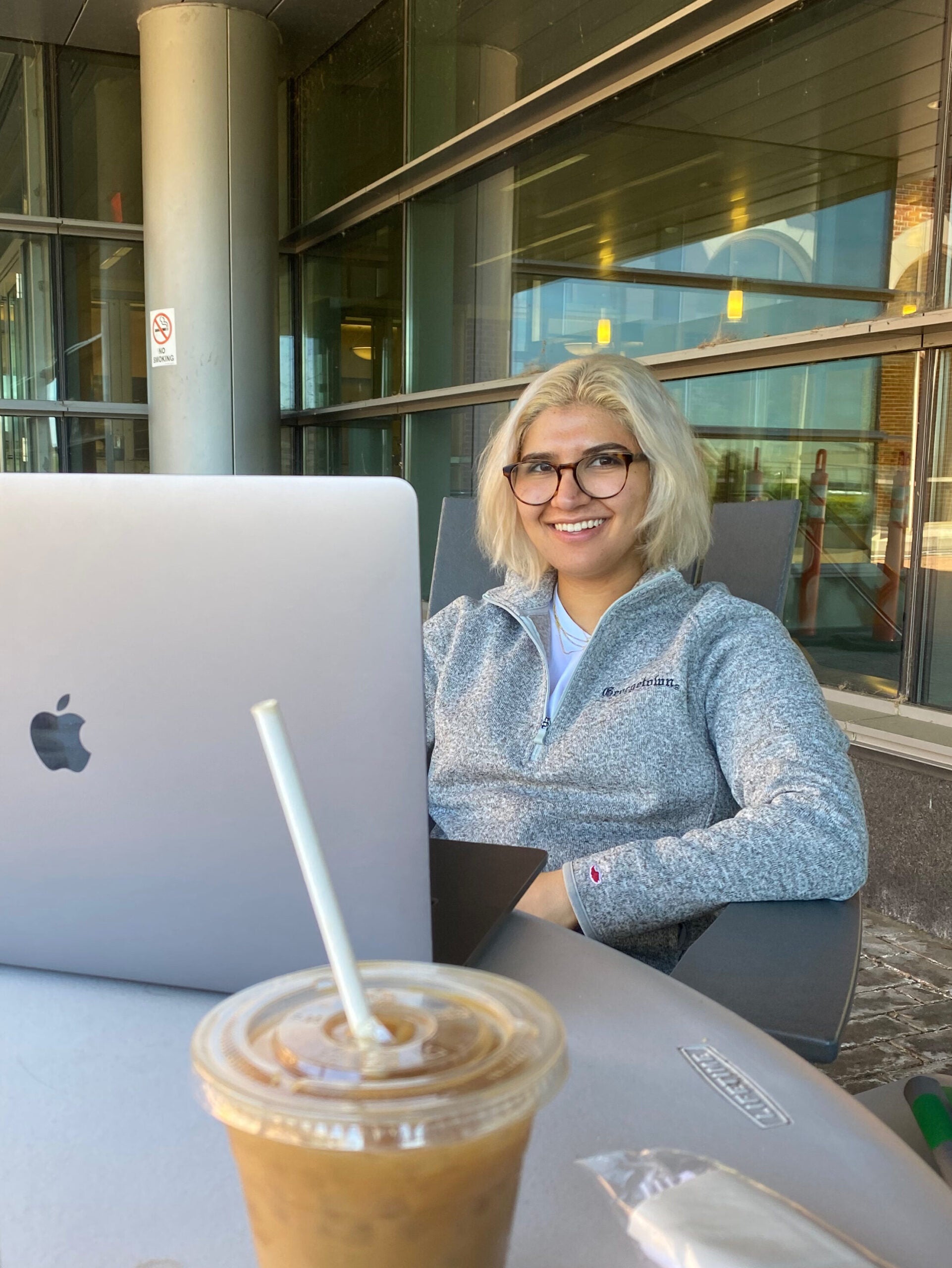 Arianna is a sophomore in the School of Foreign Service, majoring in International Politics (IPOL) with a concentration in security studies and international human rights law and a certificate in marketing. She has worked in the government sector throughout her childhood, specializing in municipal policy research and authoring, and has held office as a City Commissioner in her hometown of San Francisco, CA. Her time working on policy writing teams has equipped her with an eagerness to work with students to clarify their written language and captivate their readers. On campus, when she is not in the writing center, Arianna is involved with the Georgetown Astronomical Society, intramural tennis, and GU Politics; she can often be found reciting the US Constitution in the corners of Regents Hall or the MSB, or manically pacing campus as to close all three fitness rings on her Apple Watch.
---
Arjun Mathur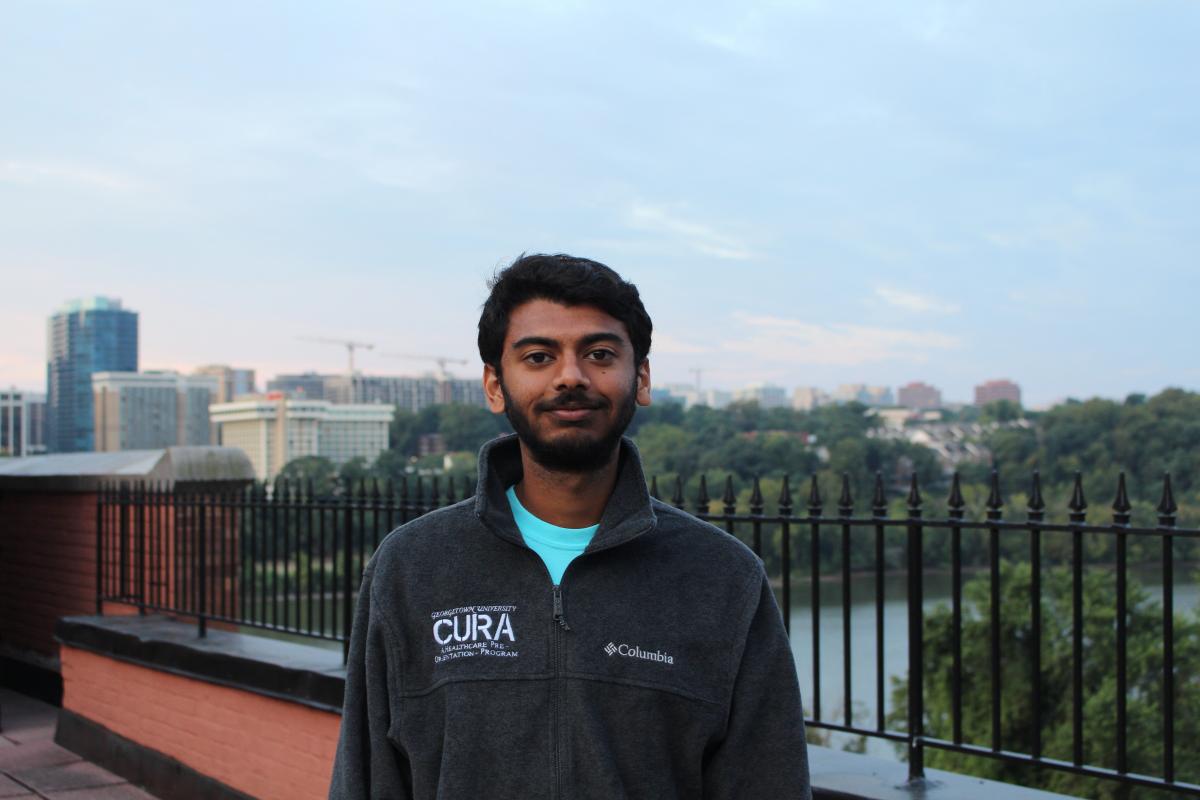 Arjun is a senior in the School of Nursing and Health Studies studying Human Science. He has experience writing lab reports and scientific papers but is excited to work with all kinds of projects. Arjun can often be seen running along the Georgetown Waterfront or reading the latest article about epigenetics (But not at the same time!). He is involved with the Georgetown Hindu Students Association and the St. Elizabeth's Outreach Program. If not in the Writing Center, catch Arjun playing tennis at Yates or hustling to the Med Campus lab where he works. Stop in to get help on any stage of your writing or hear him geek out about how methylation patterns in DNA can cause the same exact sequence to produce two completely different protein results.
---
Armoni Armour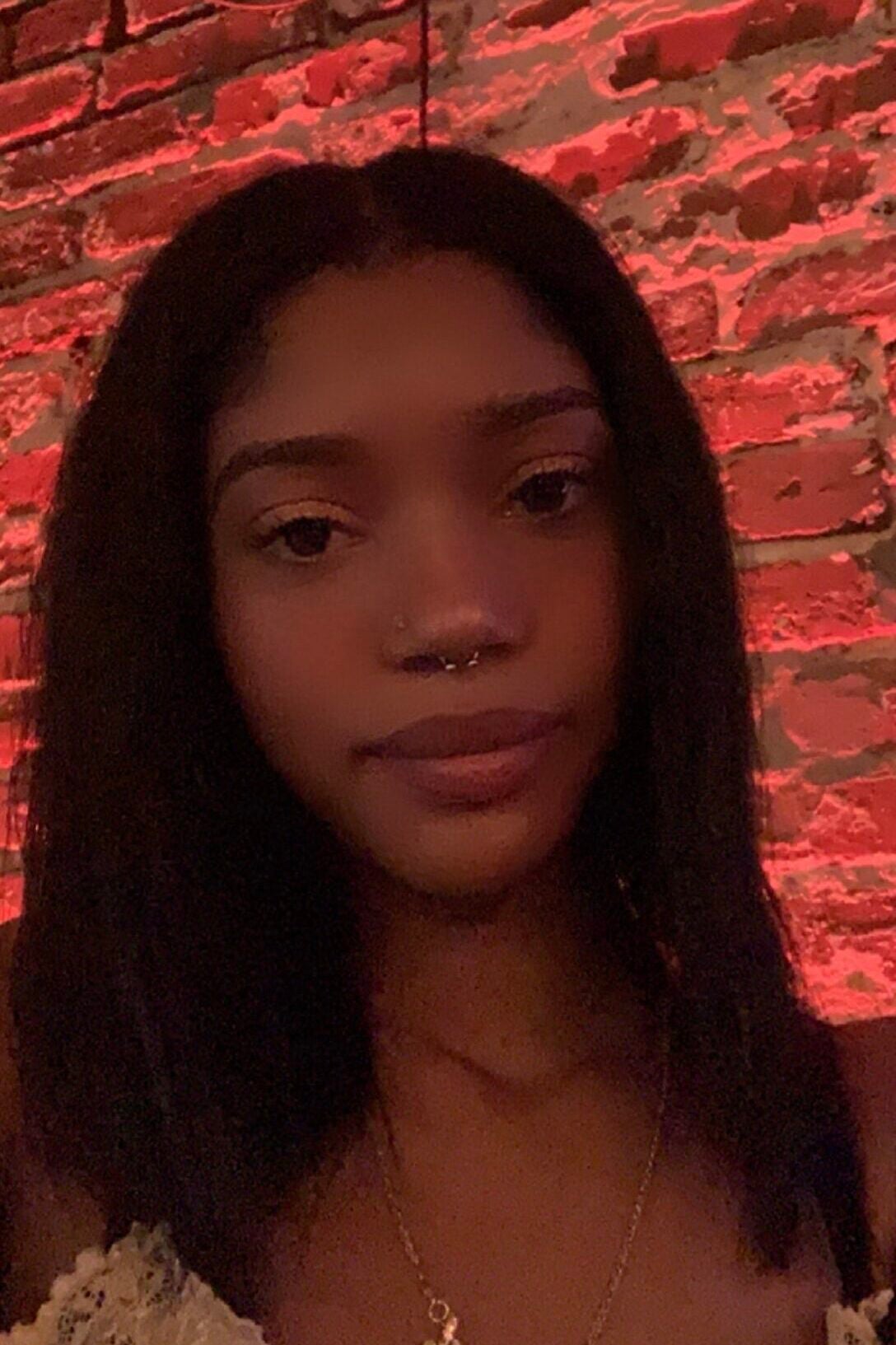 Armoni Armour is a sophomore in the college and has interests in English, Psychology and Justice and Peace Studies. Hailing from New York City, Armoni is a proud Barb and spends her free time listening to music, practicing yoga, trying out new ice cream spots and visiting the Smithsonian Museums on the National Mall. She loves rereading the best book ever, The Book Thief by Marcus Zusak because of the fascinating narration of the plot by death personified. Her favorite part of the writing process is brainstorming theses because she loves the challenge of coming up with arguments that are new and creative.
---
Avery Van Natta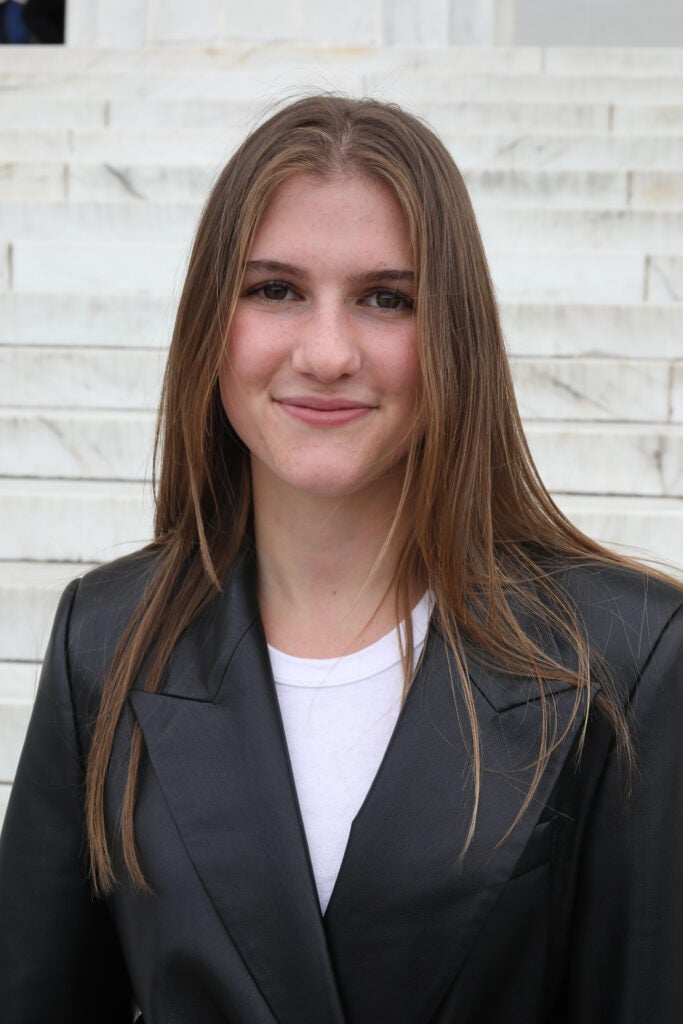 Avery Van Natta is a junior in the College, majoring in English with a minor in Business Administration. She welcomes writers at any point in the process, and particularly enjoys working on organization and editing. At home in San Francisco, California, you have a good chance of finding her eating a burrito, watching the sunset at the beach. In Georgetown, you're likely to see her at a coffee shop, working on a graphic design project or reading (these days Avery's really into short stories).
---
Caroline Hamilton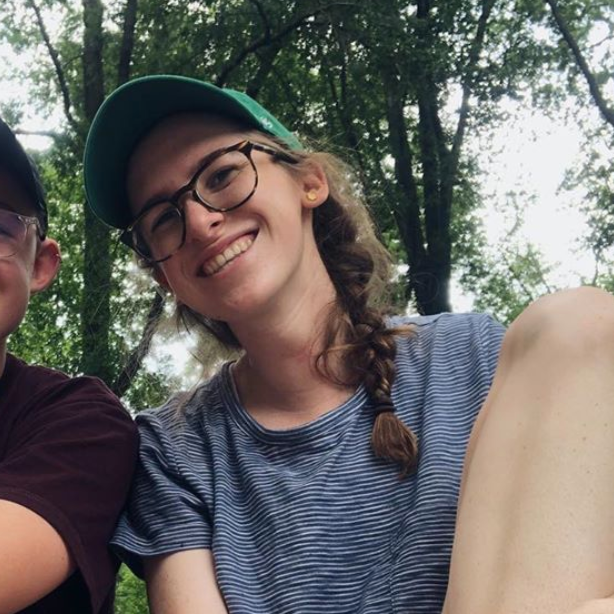 Caroline is a senior in the SFS studying Culture & Politics and Latin American Studies, but she essentially just wants to be a geography major. She's from Kentucky and will do her best to convince you it's the best of the 50 states. You can likely find her on Lau 3 aimlessly scrolling through The New Yorker or The Avett Brothers' discography on Spotify — maybe both at the same time. Outside of the Writing Center, Caroline writes for and aggressively promotes the Voice.
---
Charlotte Lee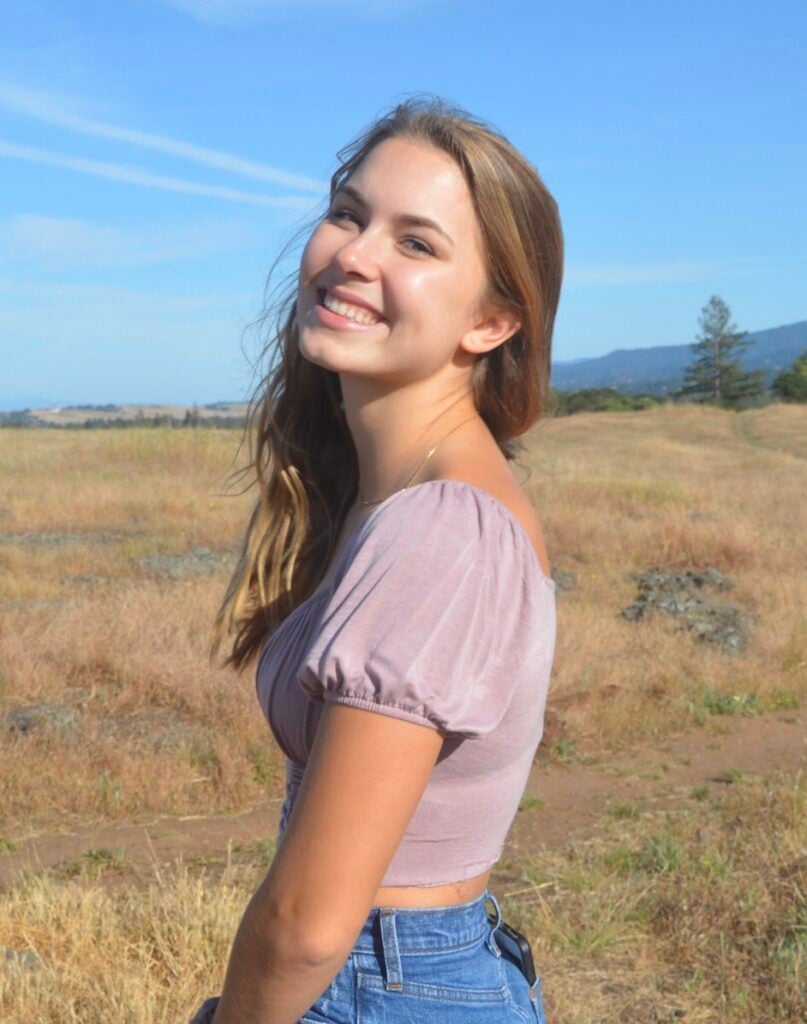 Charlotte is a sophomore in the McDonough School of Business, double majoring in Finance and Operations and Analytics with a minor in math. A native Californian, she will easily debate about the ideal weather and the superiority of NorCal. Outside of the classroom, you can easily find her wolfing down a Sun City at Call Your Mother or playing tennis at Yates. She enjoys debates about the Oxford comma, or anything grammar related, and her favorite literary trope is the oxymoron. She especially loves the brainstorming and outlining process, but would love to help in any step of the writing process!
---
Daisy Chang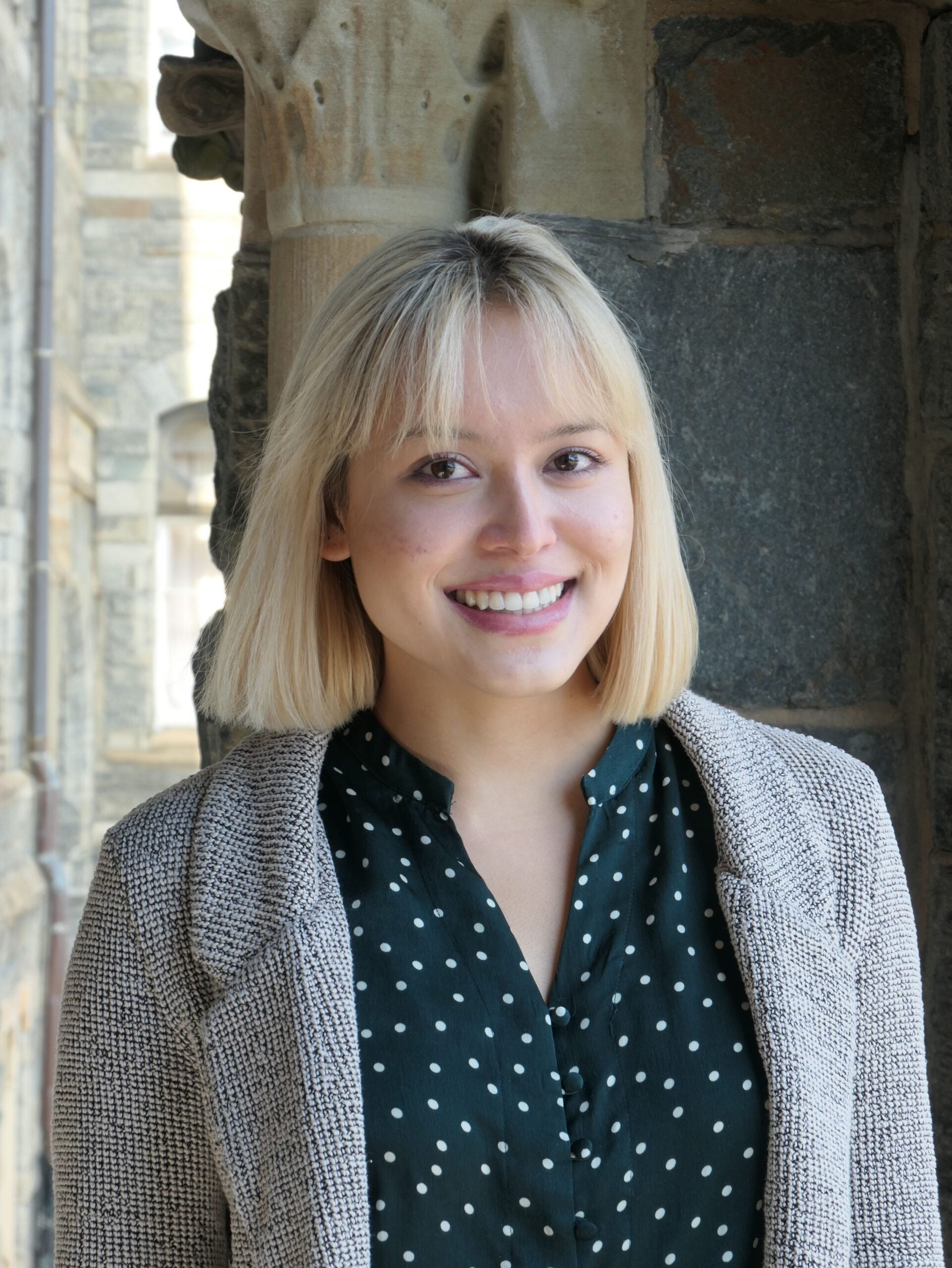 Daisy is a Junior in the College majoring in Philosophy and minoring in French. She specializes in social sciences, humanities, and application writing. She has experience in the journalism, government, and nonprofit sectors but remains deeply undecided concerning her career path. In addition to being a writing center tutor, Daisy teaches yoga with Hoyasana (free yoga for all Georgetown students!) and works at the Midnight Mug, where she'll serve you a triple-shot espresso at 1:30 am, free of judgment. Daisy loves chihuahuas–something about their big eyes, quirky personalities, and visible vulnerability–and aspires to one day own a hairless cat.
---
Dan Sachs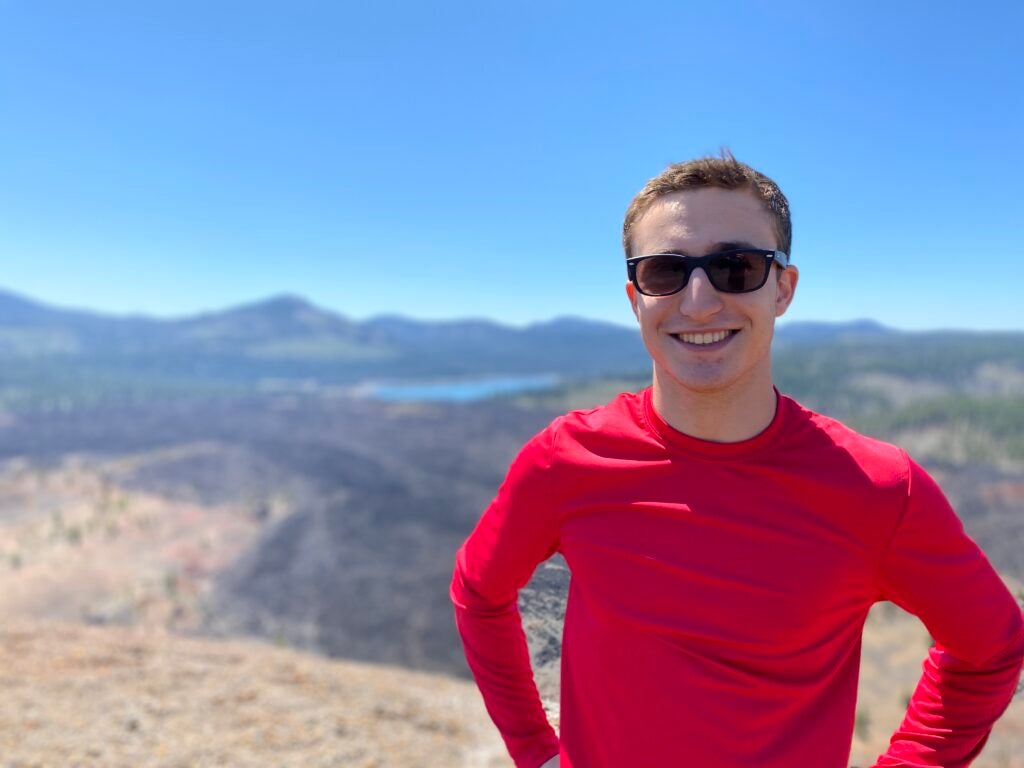 Dan hails from Northern California, though he finds himself in Washington D.C., a sophomore in the College majoring in Linguistics and minoring in Theology. He loves going on jogs, listening to audiobooks, and telling terrible jokes. Dan is an avid language learner, so come in and teach him a phrase in your native tongue! Outside of the Writing Center, you can find him searching for tasty DC cuisine or playing board games in the common room of VCE. Dan's favorite recent reads include Project Hail Mary, In the Time of the Butterflies, and Why We Sleep. He is excited to aid in any part of the writing process, but more than anything, he'll help you find a good use for an em dash (—).
---
Ella Hetfield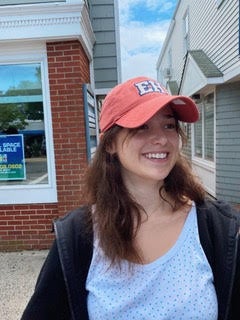 Ella is a junior in the College studying Government and English with a minor in Psychology. A native New Yorker, she is incredibly passionate about where to find the best bagels and chai lattes in the city. Ella is typically found on Lau 2 – when she's not in the Writing Center, she is either at an overcrowded table procrastinating an essay or behind the bar at Midnight Mug serving coffee. Ella specializes in humanities papers, personal essays, and applications. While her favorite part of the writing process is brainstorming and outlining, she will gladly help you at any step!
---
Eric Dickstein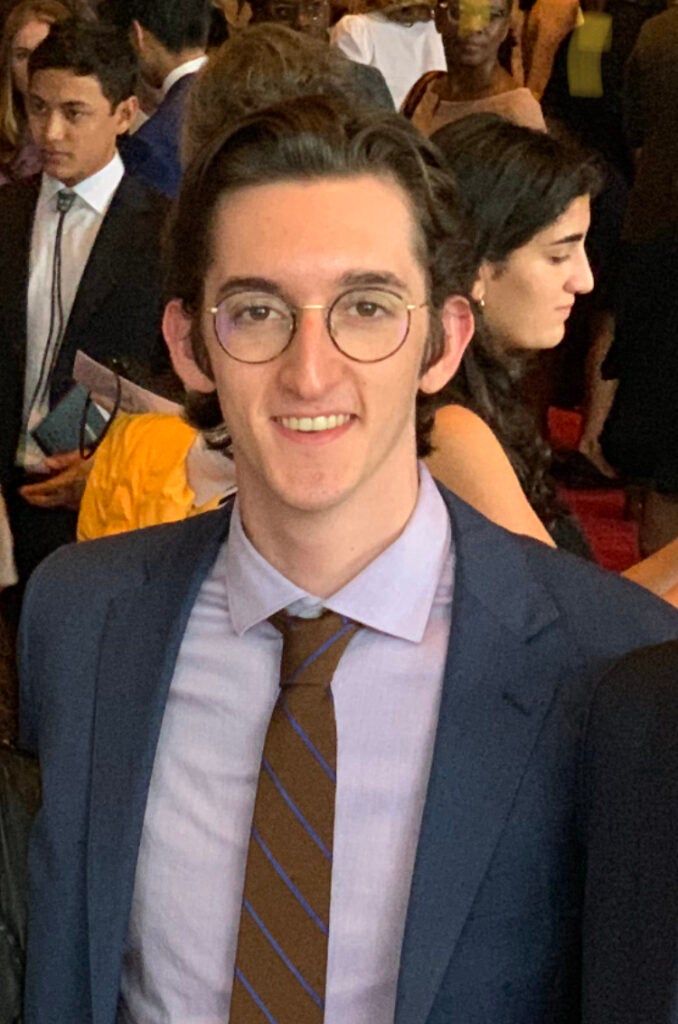 Eric is a senior in the College majoring in English and government. He specializes in social science, humanities, and creative assignments but is excited to work on any subject and at any stage of the writing process. Eric is also a musician and loves playing the piano and writing music –– talk to him about the music industry or your favorite Curb episode.
---
Gavin Ramm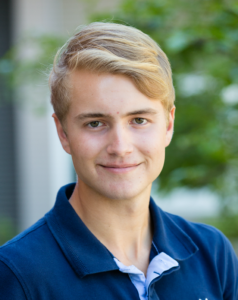 Gavin is a junior in the College majoring in Computer Science and Political Economy. He's a San Francisco native, and loves spending the weekends hiking or at the beach. He enjoys working with all kinds of writing, especially research papers and argumentative essays. Outside of the Writing Center, you're likely to find Gavin down by the waterfront on his way to rowing practice or practicing guitar in his dorm.
---
Gershon Stein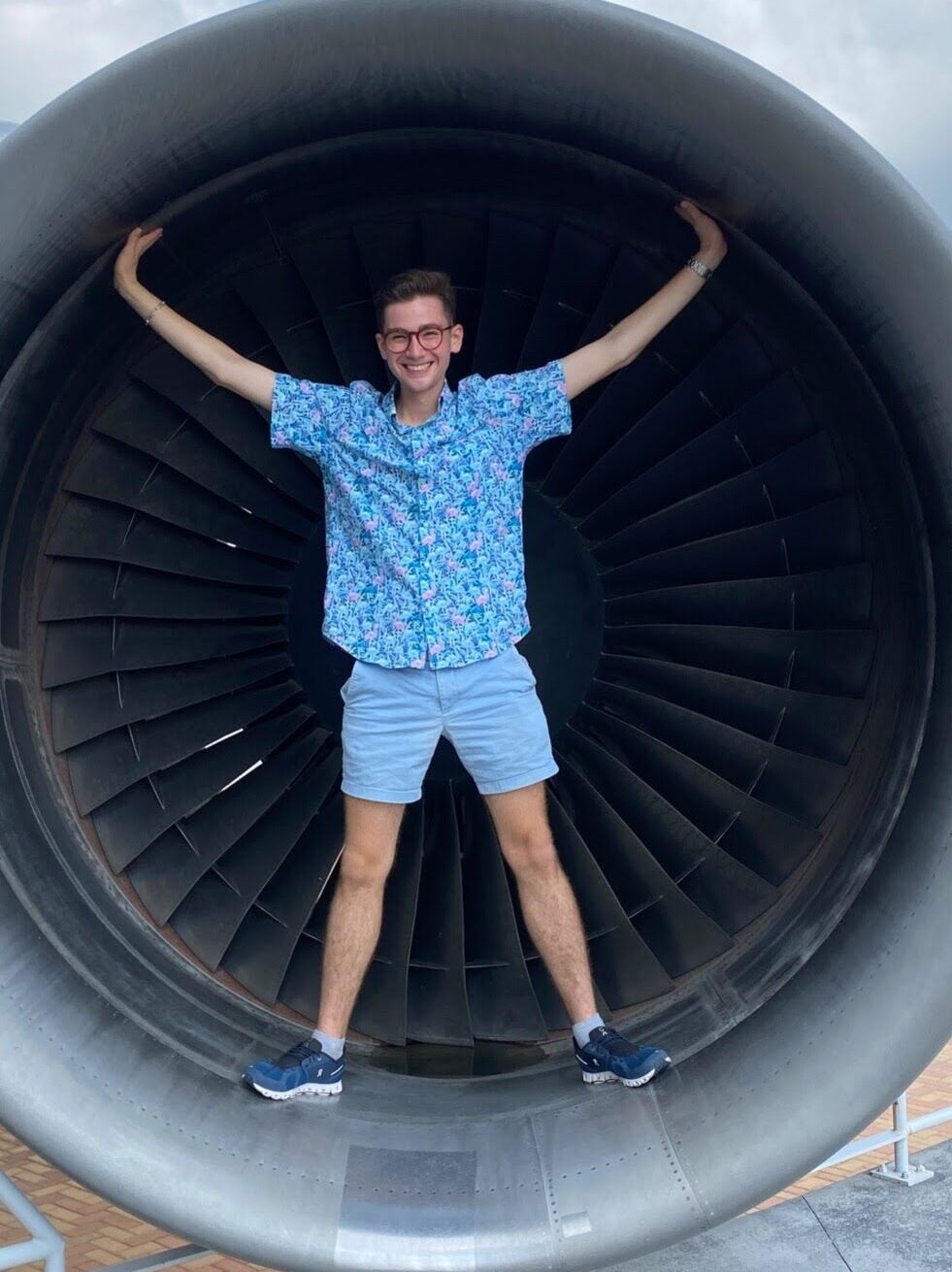 Gershon is a Sophomore in the SFS majoring in Regional and Comparative Studies with a Government minor. He was born in the California Bay Area, where his dad lives, and grew up in Chicago, IL (downtown, not the suburbs). Outside of classes Gershon is a member of the Model UN team and the Philodemic Society. He also works for Jewish life and is involved in GU Politics. In his free time, Gershon enjoys skiing, scuba diving, and traveling. In fact, he is a certified rescue diver–he can rescue you from 120 feet below sea level. Gershon loves to read people's drafts, but is also more than happy to help anyone at all steps of the writing process.
---
Gracyn Bird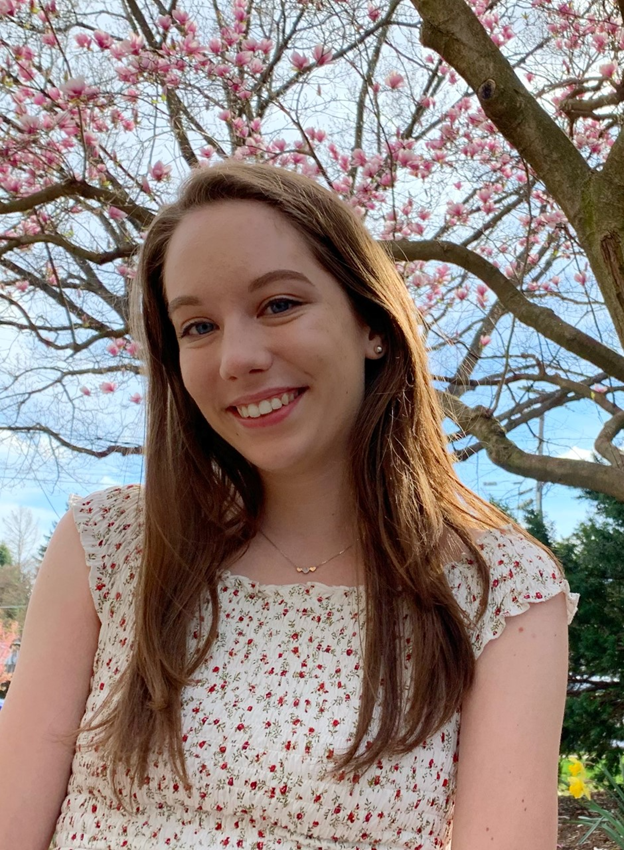 Gracyn graduated Magna Cum Laude from Dickinson College in 2021 with a double major in English and Studio Art. She is currently studying for her Masters in English at Georgetown. Combining her love for art and literature, Gracyn's academic interests include intersections between the visual and verbal, mainly comic books and video games, as well as feminist and postmodern theory. She has the most experience tutoring research papers for the humanities, but enjoys helping writers across all subjects. When she's not working on homework, you'll find Gracyn painting, thrift shopping, or listening to the Beatles.
---
Hillary Zeng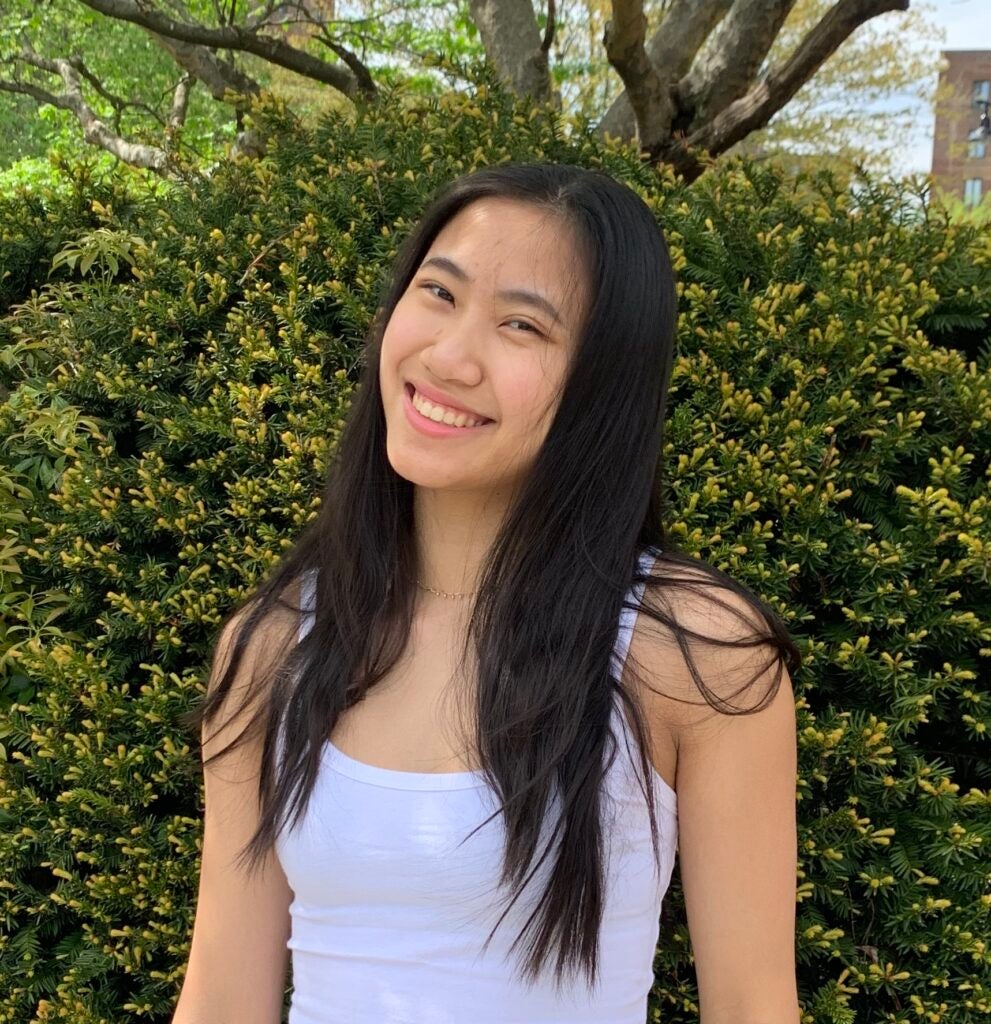 Hillary is a sophomore pursuing a dual degree in Business and Global Affairs through the SFS and MSB. In her tranquil hometown of New York City, her favorite activities include playing volleyball, eating hotpot (Haidilao is supreme), and wandering Manhattan streets for the ~vibe~. Hillary spent this past summer teaching English to L2 students, so she is comfortable working with both native and non-native speakers alike. Although she has a soft spot for personal and argumentative writing, she is open to stimulating her brain with more formal, academic papers. Wherever you are in the writing process, stop by! Hillary would absolutely love to meet you 🙂
---
Isabel Janovsky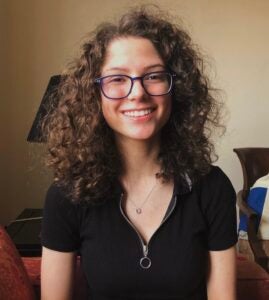 Isabel Janovsky is a junior in the College studying Government and French. She is from New York City (the greatest city in the world) and has yet to find any adequate bagel replacement shops in DC. She loves Russian and French film and her favorite movie is the eight-hour-long 1966 Soviet adaptation of War and Peace, though the Lobster comes in at a close second. At the Writing Center, Isabel particularly enjoys brainstorming and idea organization, but is always down for a reverse outlining session. In her spare time Isabel can often be found in the Jewish space on campus Makom or riding the DC metro.
---
Isabel McHenry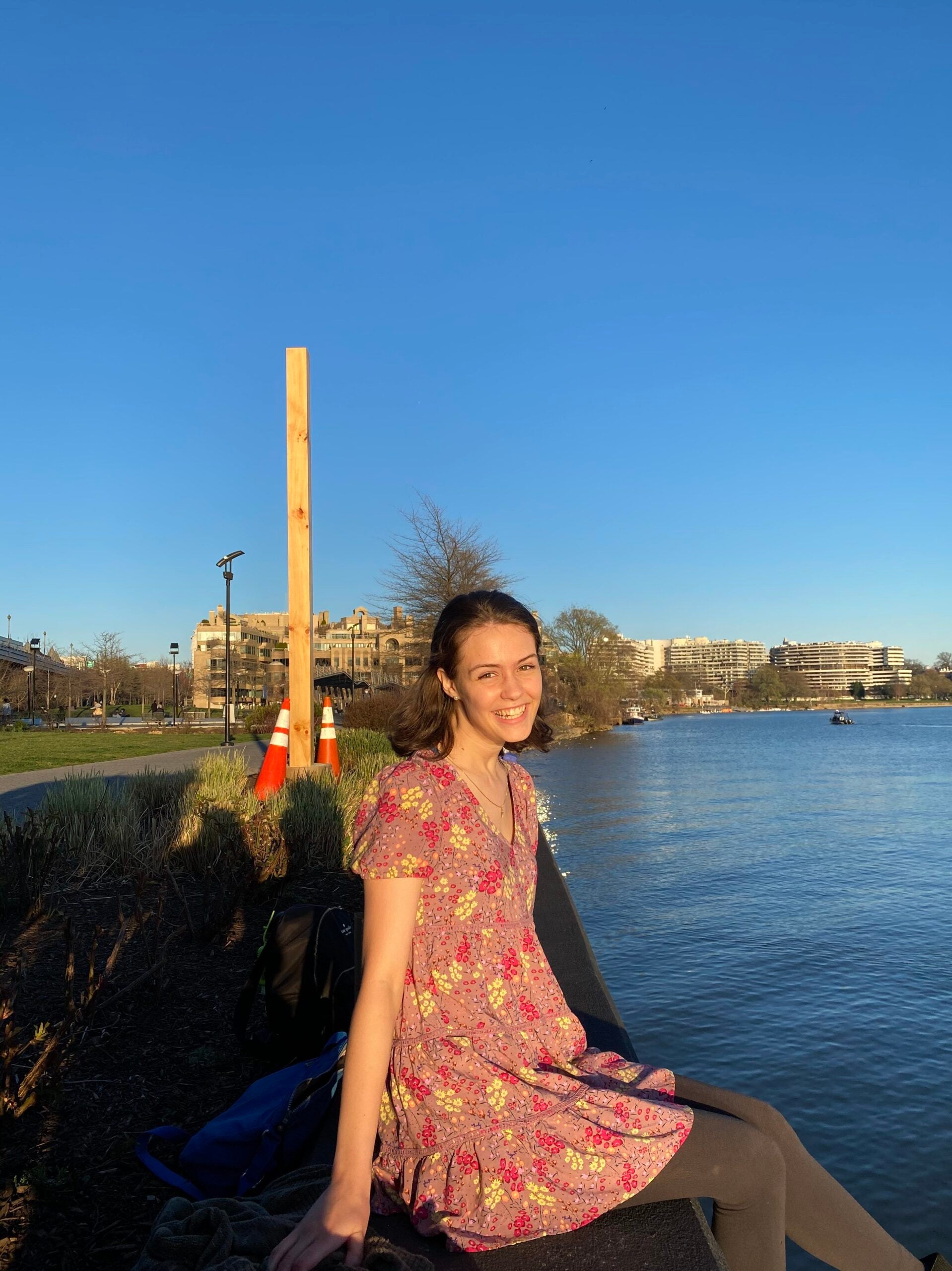 Isabel is a sophomore in the College from Georgia studying Spanish with Management Business Coursework and minoring in History just for kicks. She enjoys organizing and fine-tuning papers, but she would love to work with you in any part of the writing process. Outside of the Writing Center, she performs with the Sketch Comedy Society, serves on the board of Catholic Women, and is an active member of the International Relations Club among other things. On any given day you might find her wandering around Dahlgren quad, drinking inordinate amounts of coffee with her Leo's cheese danishes, or ranting about women in country music.
---
Julia Liebell-McLean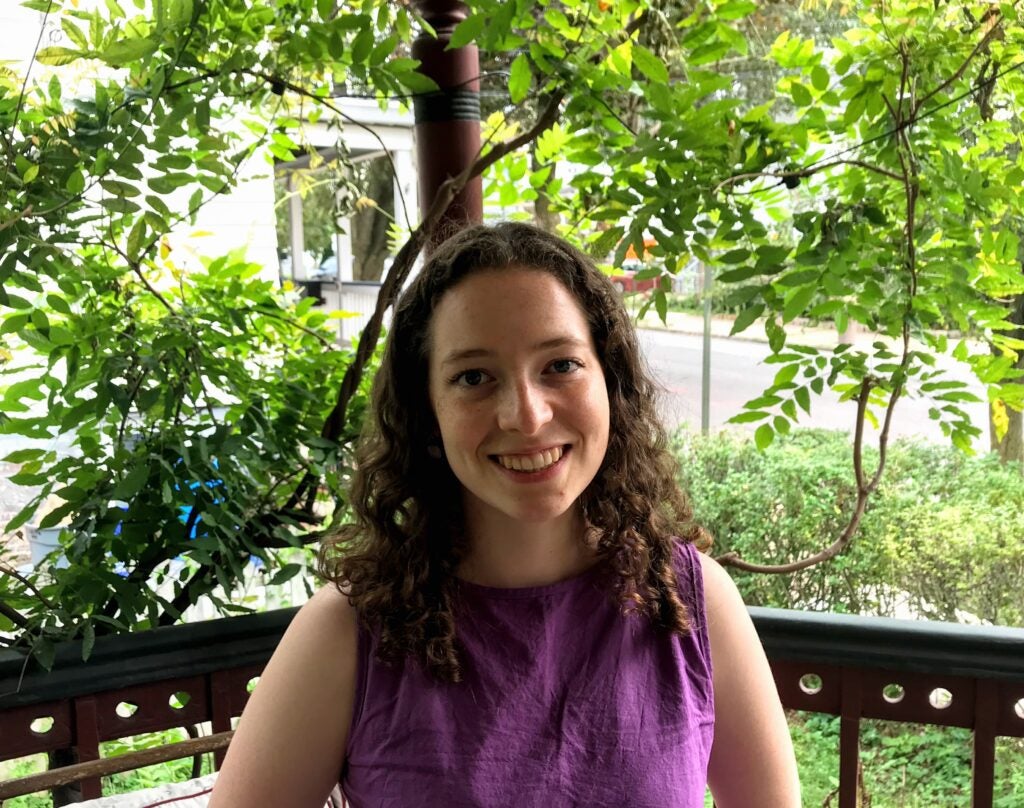 Julia Liebell-McLean (SFS '22) hails from Central New Jersey (yep, it exists!). She is a CULP major, with an anticipated French minor and African Studies Certificate. Julia specializes in outlines as well as fine-tuning a paper but is more than happy to help at anystage in the writing process. She's involved with Moot Court, the Honor Council, and works at the Circulation Desk. In her spare time, she loves to write letters, reread Anne of Green Gables, and take Sporcle quizzes. If not at the Writing Center, you can virtually always find Julia in some corner of Lau.
---
Kate Tavella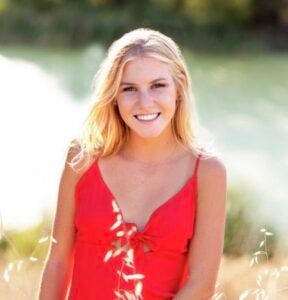 Kate Tavella is a junior studying Business and Global Affairs in the MSB and SFS. Originally from Northern California, Kate came to Georgetown to explore DC, run Track and Cross Country, and study foreign affairs in the hub of politics. A lover of conversation, Kate enjoys talking through the brainstorming and outlining process, as well as adding flair to writing through diction. She will be working in the MSB Writing Center, specializing in business writing. When she is not drinking coffee in Grounded while studying with her peers, you can find her running all over DC or teaching middle school students through the Grassroot Project.
---
Lauren Gaetano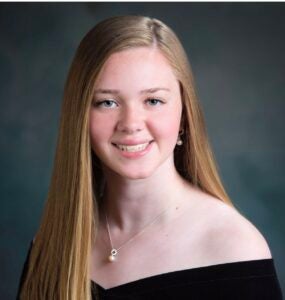 Lauren is a junior in the College majoring in Biochemistry. She is originally from Valley Forge, Pennsylvania, but now lives with her family to a seaside town in Maine called Castine, where she enjoys all kinds of crazy outdoor adventures such as hiking and paddleboarding. Outside the Writing Center, she works in the Tong Lab in the Chemistry Department studying gold nanoparticles and their ligands. Although she has some background in scientific writing, she is interested in all types of writing, especially in regards to the brainstorming and planning phase of the writing process. In addition to her interest in writing, Lauren is an avid reader whose reading list includes a strange combination of fantasy, sci-fi, and classic American Literature.
---
Lindsey Golotko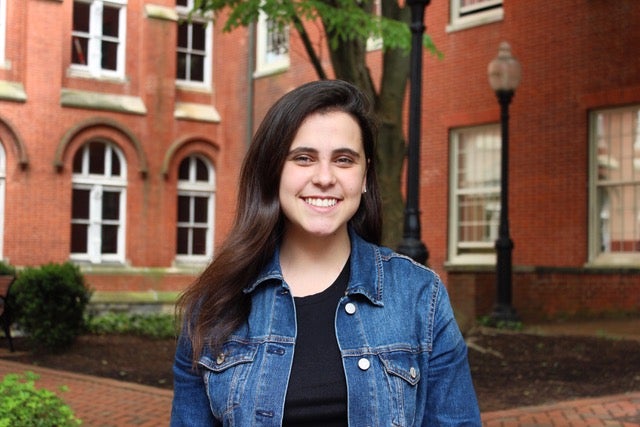 Lindsey is a senior in the McDonough School of Business, majoring in Finance and Management. She is originally from Freehold, New Jersey, which is the hometown of Bruce Springsteen. Outside of the classroom, Lindsey is the Director of Digital Media for GAAP, a member of Hilltop Consultants, and a peer ambassador for the McDonough School of Business. She enjoys all types of writing, but has a focus on whitepapers, consulting decks, and other business genres. In her free time, Lindsey loves exploring DC and reading her favorite comedians' memoirs, especially Mindy Kaling.
---
Lindsey Levy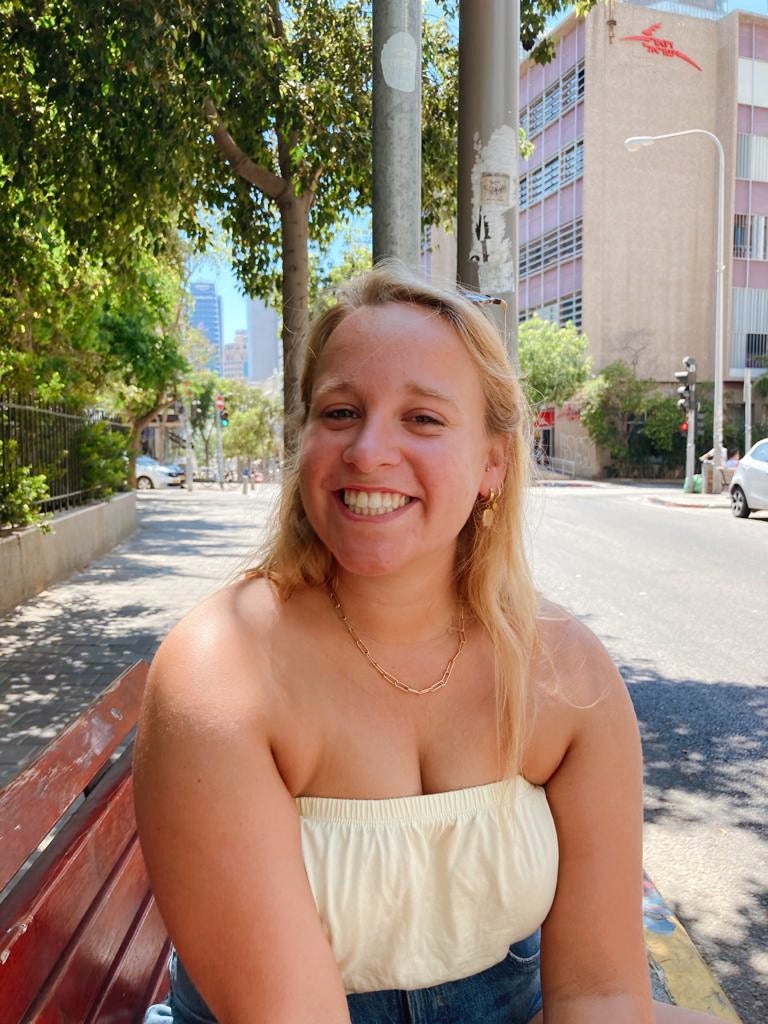 Lindsey graduated from the University of Wisconsin-Madison, where she studied Non-Profit Management and English Literature and worked as an Undergraduate Writing Fellow at Wisconsin's Writing Center. Post-graduation, she spent a year teaching English in the city of Rishon-Letzion in Israel and loves to talk about her experience! She is currently pursuing a Master's in Democracy and Governance and her academic interests include Democratization in the Middle East and its relationship to Counter-Terrorism, Institutionalized Religion, and Human Rights. She is an obsessive reader and is happy to talk about books and offer book recommendations any time of day! Outside of the classroom, Lindsey can be found in a bookstore, cooking vegan/gf eats, or hunting down the best Turkish coffee in DC.
---
Matteo Palacardo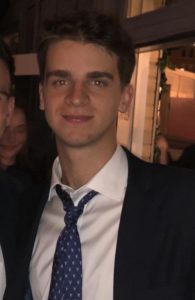 Matteo Palacardo is a Senior in the McDonough School of Business studying Marketing and Finance, with a minor in Entrepreneurship. He's especially interested in the subconscious implications behind first impressions, and how it's manifested through marketing products, ideas, or even people. A proud son of two Italian immigrants, he grew up in the concrete jungle where dreams are made of. He likes working with any kind of writing but he has a soft spot for creative writing and business proposals. He's also fluent in Italian (and average at Spanish), so he would love to work with any non-native English speakers–or anyone who needs help in Italian! At Georgetown, he's the Chief Venture Officer for the startup consulting club Georgetown Ventures, a member service representative at GUASFCU, and enjoys getting spiked on playing for the club volleyball team. He's an avid soccer/basketball fan and could argue about New York sports forever.
---
Maya Valliath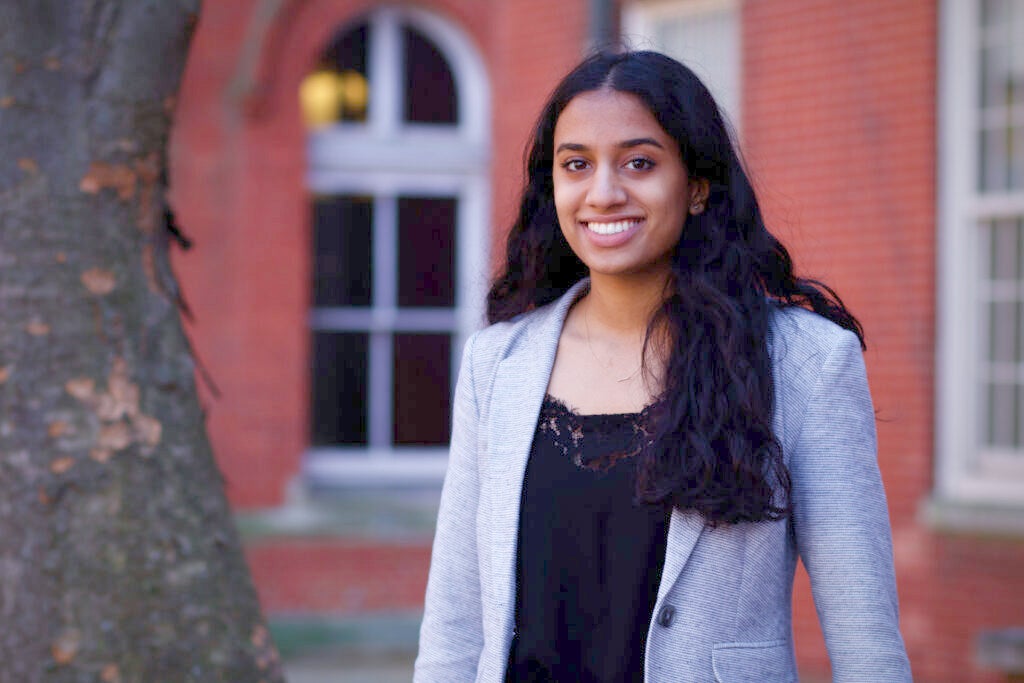 Maya is a junior in the College from the north suburbs of Chicago and is majoring in Mathematics and Economics. Essay planning and argument formation are definitely her favorite projects but she would be happy to help with all writing projects! Maya is on the board of the Bipartisan Coalition, works at The Hoya, and is a part of the Carroll Fellows Initiative. Come say hi to get help starting or editing an essay or to talk about the Jack Ryan series (television or movies)!
---
Nick Gao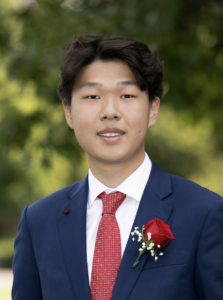 Nick is a junior in the Mcdonough School of Business, majoring in Finance and Accounting with a minor in Economics. He was born in China and moved to the US when he was 10. He speaks three languages: Mandarin Chinese, Japanese, and English. He is comfortable working with both native English speakers and L2 students. He specializes in research papers and history papers, but he enjoys working with all types of writing at various stages. Outside of the Writing Center, Nick is a part of the Georgetown Fencing team and Zeeba Investment Group.
---
Olivia Lei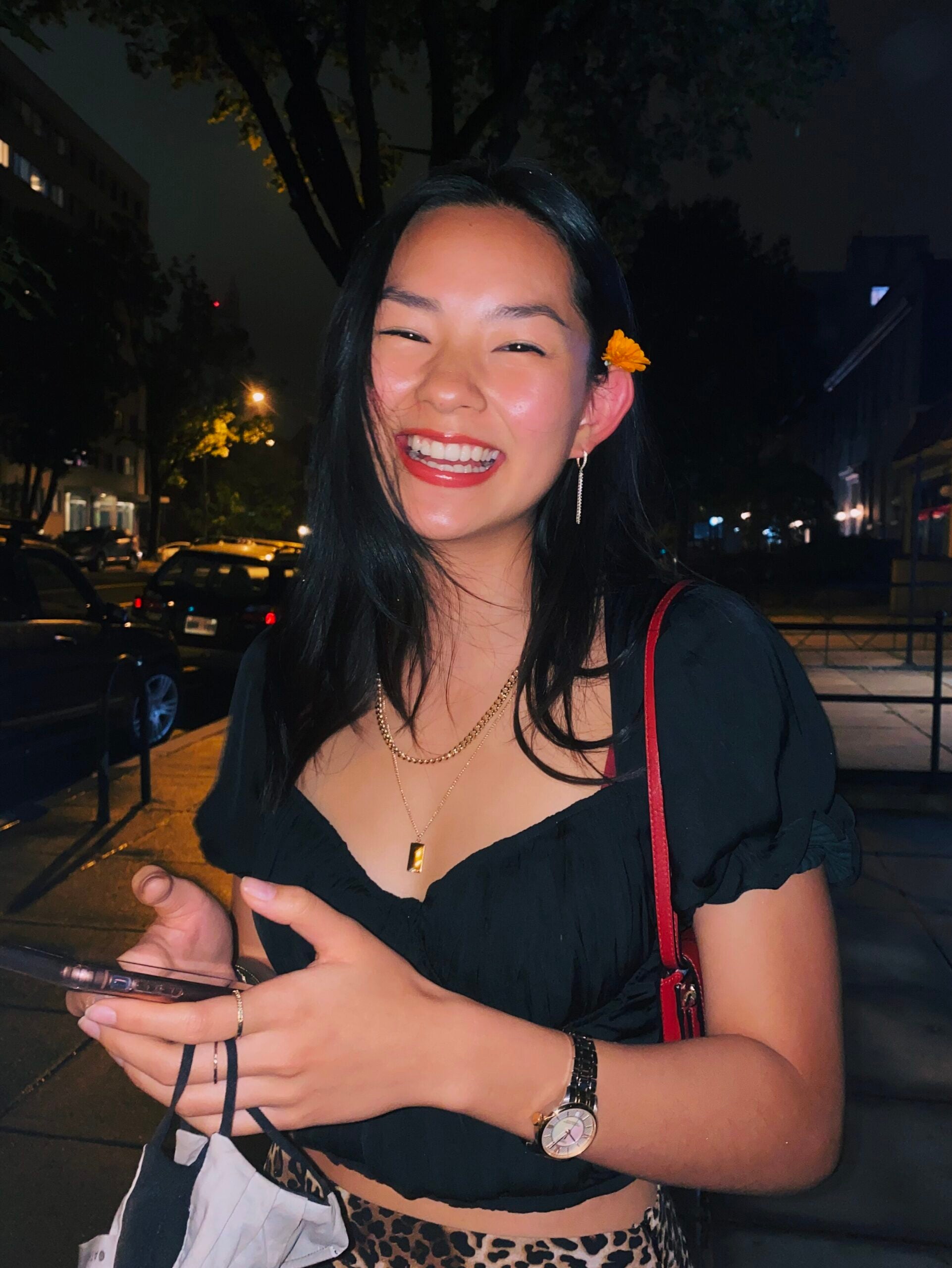 Olivia is a senior in the College double-majoring in Justice & Peace Studies and American Musical Culture. She hails from Australia but has moved around for most of her life; most recently, she's had the pleasure of calling Geneva and Lisbon her homes. Olivia speaks Spanish, French, and Chinese, so she would be delighted to work with any non-native English speakers! Her favorite parts of the writing process include brainstorming and outlining, but she also loves polishing a piece for structure and flow. In her free time, you can find Olivia consuming copious amounts of matcha on Lau 3, singing to herself like a lunatic, or bumping to a fire playlist at Yates.
---
Omar Ramos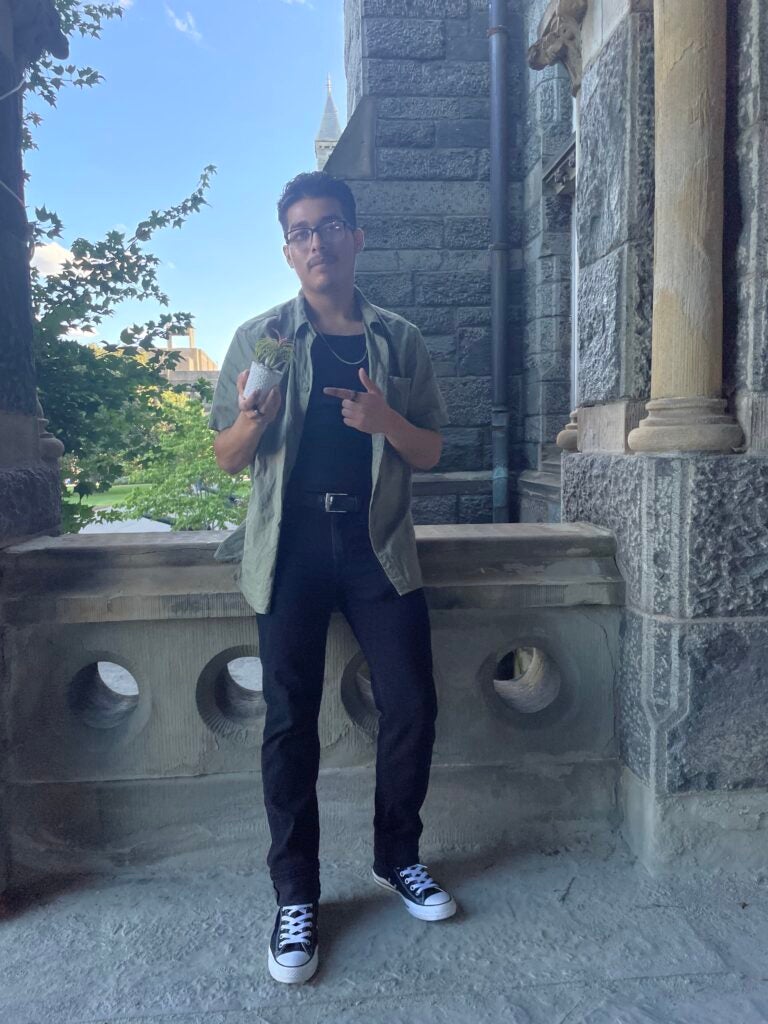 Omar is a sophomore in the College majoring in Arabic and has yet to declare his second major in Comparative literature. Humbly Guatemalan, he calls LA his hometown but was born in Manassas, Virginia. Omar is passionate about languages and plans to be a hyper-polyglot already knowing Spanish and currently mastering Modern Standard Arabic. He is a proud first-generation college student and is committed to social justice and equity for all. Hoping to become a writer and poet, Omar came to the Writing Center because of his passion for literature, philosophy, and theory. Ultimately, he is committed to showing others their true potential in writing and believes that there are no such things as an un-tutorable writer. Above all else, he can talk for hours about bio-hacking and bulletproof coffee.
---
Sarah Ackels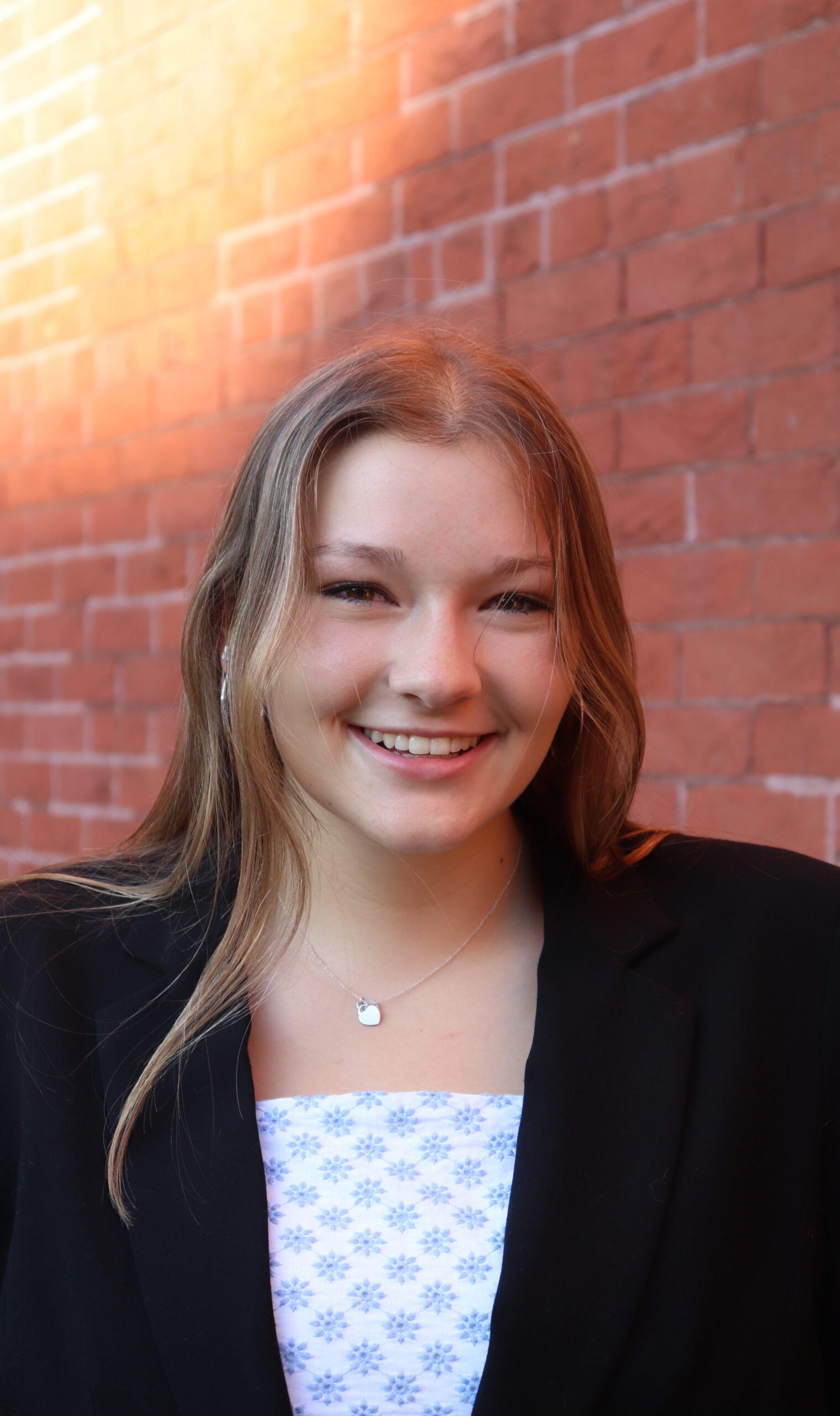 Sarah is a sophomore in the McDonough School of Business studying Operations and Analytics with an intention of double majoring in Finance or minoring in Computer Science. She is from Connecticut where she loves to ski with her friends, hike with her dog, and bake with her sister. In Georgetown, she enjoys napping, studying in the MSB, drinking coffee, and spotting rats. Her favorite sentence structure is "independent clause; conjunctive adverb, independent clause" and her favorite word is abundant. She is also a Social Impact Project Consulting Coach and Treasurer of Georgetown University College Democrats. She looks forward to helping other Hoyas with outlines, sentence structures, and editing (as long as it is in Times New Roman).
---
Sarah Ong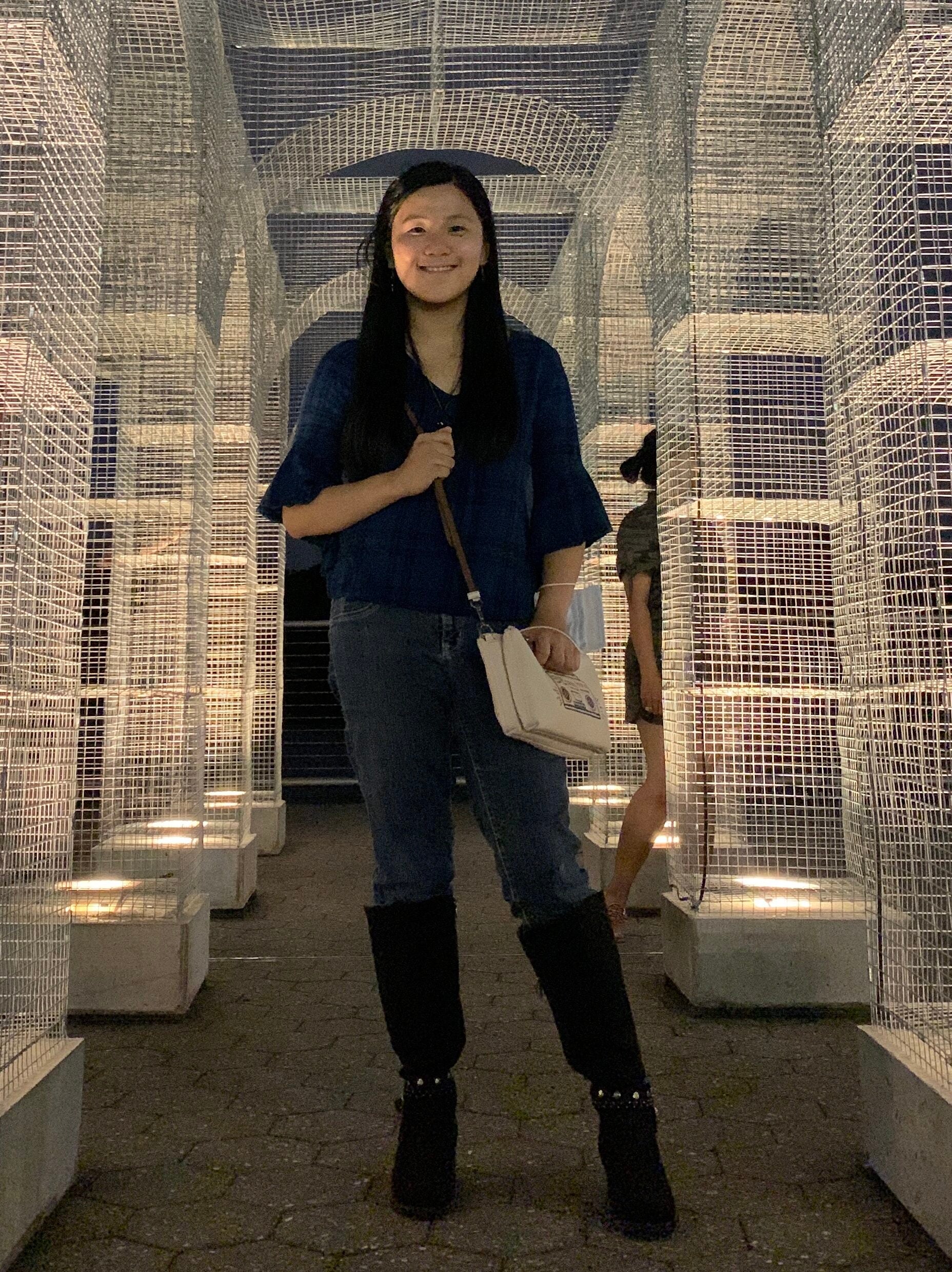 Sarah Ong is a sophomore in the College currently studying Mathematics with an eye towards minoring in Japanese and Computer Science. Coming from the diverse bubble of Northern Virginia, Sarah has a soft spot for poetry and creative writing with a dream to one day publish her own novel; she'd love to talk with other inspiring authors as well. Having worked in a writing center in high school, her favorite part of tutoring is helping people brainstorm ideas and find inspiration. She's a little shy (okay maybe more than a little) but that's why she'd be more than happy to work with those that also have trouble opening up to others, especially with their writing. Outside of the Writing Center, she can be found huddled in the corner of her room drawing, writing tidbits of various WIPs, watching anime, or playing video games with her boyfriend.
---
Sarah Watson
Sarah is a junior in the SFS majoring in Regional and Comparative Studies and minoring in Persian and Religion, Ethics, and World Affairs. Her most famous piece of writing to date is an article about a large fish that ended up on Jimmy Fallon. Sarah's first love is mountain climbing, but she is also the managing editor of the Voice. Outside of the writing center, she can be found listening to Lorde's lyrical masterpieces, sipping orange juice (it's good okay), or heading out for a run to explore DC's parks. She will give you Thai food recommendations.
---
Savannah Willard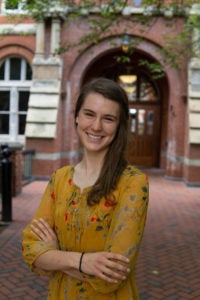 Savannah Willard relishes running, ice cold Minnesota Lakes, and learning amidst the beauty and grandeur of DC. As an RCST major in the SFS, she can offer guidance on every stage in the process of writing humanities papers. However, she will eagerly dive into any discipline and has experience in environmental biology and resume-writing. Over quarantine, Savannah has enjoyed reading more literature (Dante and Dostoevsky!), memorizing a new Gerard Manley Hopkins poem, and spending time with her five younger siblings at the cabin on the weekends.
---
Shreysi Mittal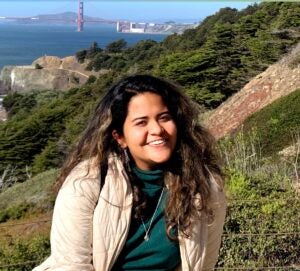 Shreysi is a junior in the McDonough School of Business majoring in Finance and the Global Business Fellows program. She's from the superior half of California (NorCal), and is a typical wanna-be-edgy SF teen. She loves all writing, especially cover letters, and specializes in brainstorming. Outside of the Writing Center, Shreysi is involved with Blue and Gray, Innovo Consulting, and Mock Trial. In her spare time, she's probably learning an instrument or telling terrible jokes that only she finds funny.
---
Stephanie Leow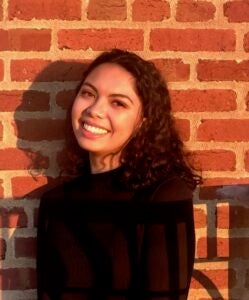 Stephanie is a senior in the College from Northern VA, double majoring in English and Linguistics and minoring in Spanish. She would love to help with any stage of the writing process (but is a sucker for strong structure/organization), and her tutoring specialties include humanities subjects, research proposals and papers, creative writing, and personal statements. Stephanie is excited to share her love of language with anyone who comes to the center, and she would delight in working with L2 students. When she's not tutoring, Stephanie is likely participating in Mosaic dialogues, working on literary magazines, or playing a few too many games of GamePigeon 8-Ball.
---
Symone Harmon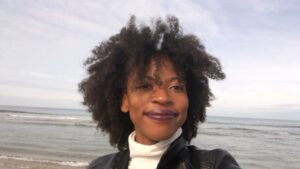 Symone is a senior in the College, studying African American Studies. She was born and raised in Virginia Beach and enjoys long beach days. She enjoys discussing and writing about philosophy, theology, and the social sciences. Her favorite parts of the writing process are brainstorming and organizing evidence. Symone wishes she could call herself a frequent patron of Yates, but usually, she chooses to believe that walking the hills of Georgetown between classes counts as exercise. However, she does enjoy dancing and tries to participate in as many of the dance showcases on campus as possible, like Georgetown Rangila and Reventón.
---
Thomas Ohno-Machado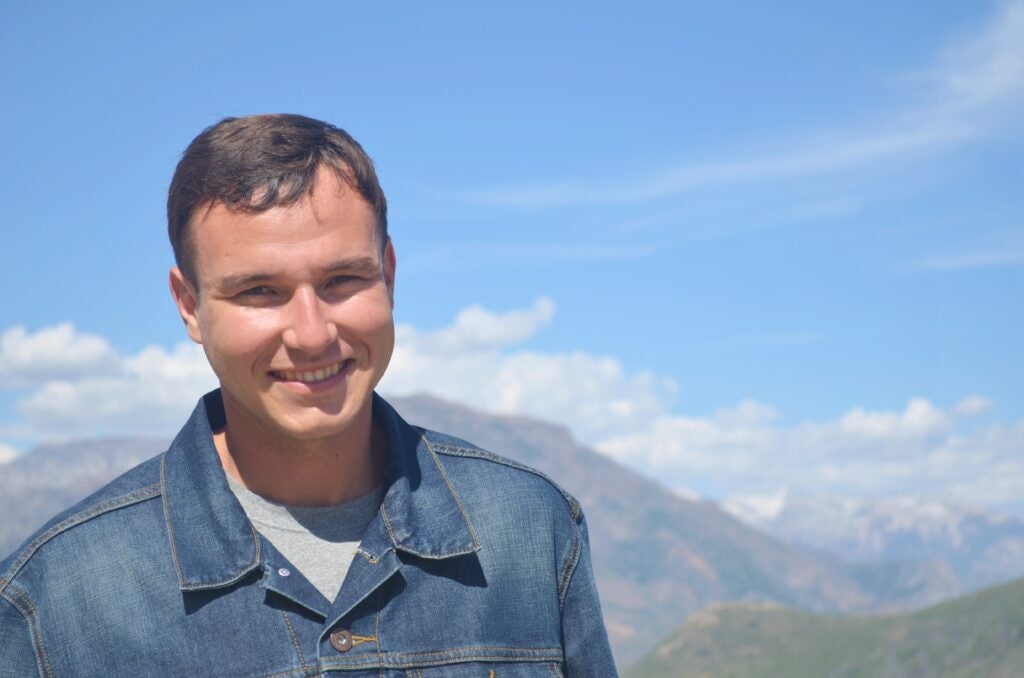 Thomas graduated with a B.A. in Cognitive Science from the University of California, San Diego. He served in the Teach For America corps in the San Diego region as a special education teacher working with high school students and young adults. During that time he received an M.S. in Special Education from National University. At Georgetown, he is a first year English M.A. student. Thomas also works as a Publication Fellow for 826DC, a non-profit organization in Washington, DC that supports local K-12 students with creative and expository writing. In addition to English, Thomas speaks Portuguese and Spanish, some French and Italian, and a little Japanese.
---
Trinity Johnson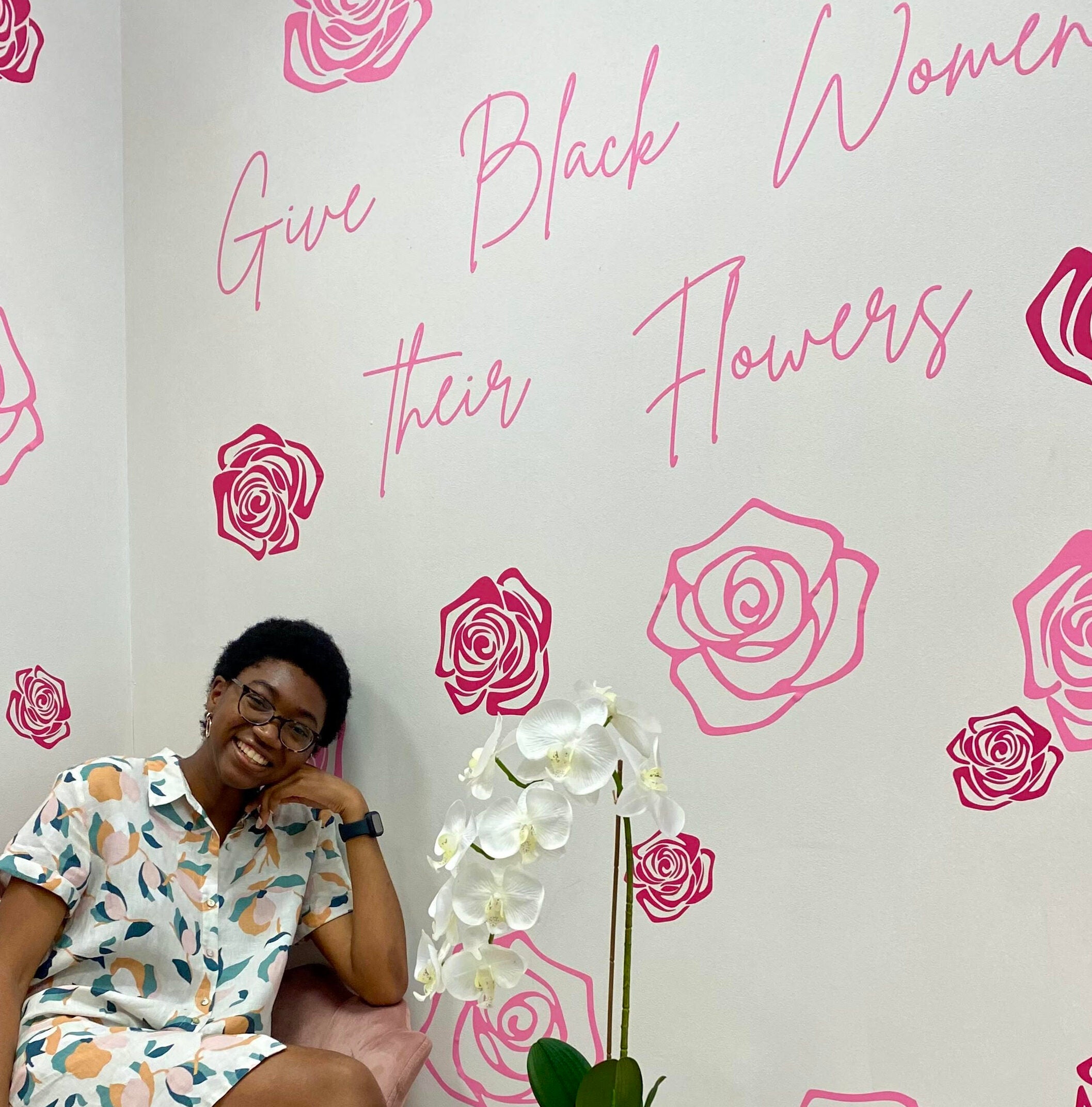 Trinity is a junior in the McDonough School of Business, majoring in Management, Leadership, and Innovation with a minor in Sociology. She hails from Grayson, Georgia– a city about an hour northeast of Atlanta. She loves reading slide decks and informative papers, and she is passionate about the editing and revising process. When she is not in class, she can be found at the MSB Tech Center solving the world's problems one computer at a time or on Healy lawn taking yet another picture of Healy Hall!
---
Yingying Mei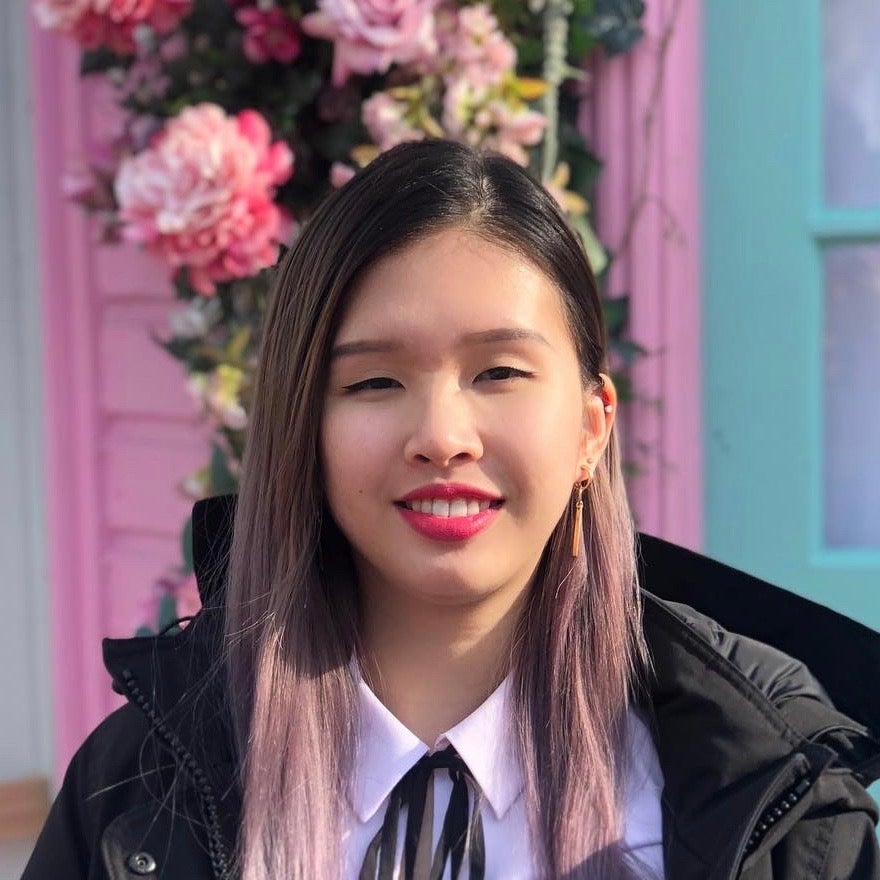 Ying is a senior in the SFS majoring in Culture & Politics and minoring in Chinese. She was born in China but has made Washington, D.C. her home for 10+ years. As a D.C. local, she can tell you all about the bubble tea shops in the area. Outside of the classroom, Ying enjoys working with D.C.'s immigrant community and exploring the city's food scene. She is most familiar with argumentative essays, literary analysis, and humanities papers. As a non-native English speaker herself, Ying welcomes L2 students with open arms.